It's Wednesday already... and that means my birthday is over...womp womp.
That's okay only 364 days til my next one!!
Before we get started I want to talk to you about another one of my guilty pleasures.
Seriously who the F is
A
....
Last night's episode which I watched this morning, because I have kids, and kids = Jake and the Neverland Pirates was INSANE.
I don't want to ruin it for anyone, but to say my jaw was hanging open at the end is an understatement.
On to the Link up!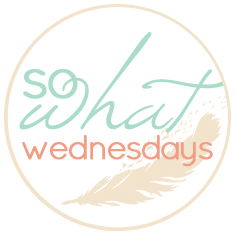 Today I am saying So What if...
...I don't get as many "Happy Birthday's now that I'm not on Facebook, the ones I got mean so much more, because people ACTUALLY remembered
...Aaryn goes home...in all honestly I really want her to stay, she's come a long way.
...if I eat tuna out of a can, my ass is going to thank me
....if I work later than some people, I can send my daughter to dance lessons, and hopefully my son to swimming lessons.
...I am always dreaming about food
...Pintrest is trying to make me fat
...my blog layout looks like a 5 year old did it, because soon I will have a BRAND NEW ONE!!
What are you saying So What to this week?