Today's the big day of the Running4Maggie link up over at
Simply Sami
. I've been talking about it for awhile now and it's finally here.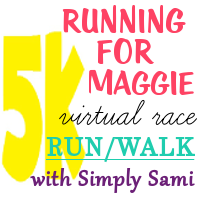 Sami hosted a virtual 5k last week in memory of her sister Maggie who was taken far too early.
I'm a new blogger and I'm just finding my footing, but the main thing that made me want to jump in feet first was the sense of community. People get together all over the world to join up and make big moves. It's amazing.
Sami is so sweet and really gave this link up and virtual 5k her all. She commented on every picture posted and every blog that mentioned it. That means a lot to me because thats what I'm here for.
I am super nerdy and get excited when "bloggers" write me back. When Jen over at
Fatchick2fitchick
started following me on Instagram I seriously felt like I made the big time. If you haven't checked her out yet, do yourself a favor.
Her accent, I die.
Her and her husband
Timbob
did the 5k as well.
This week was my first week at the gym and I used this virtual 5k to motivate me. I made sure that every day I was there I did 3.11 miles on SOMETHING. I instagramed a few to make sure that Sami knew I was getting my fat girl hustle on all week thanks to her inspiration.
I like trying all the new machines at the gym and switching up my cardio. I used to use the elliptical all the time in college but haven't had a chance to use one in a long time.
I went to the gym last week and decided to do the full 5k on one there. I set the time I wanted to work out and went at it. It was hard and I really had to push myself. I just wanted to see that number.
It was 2.9
then 3.01
then 3.09
then the machine shut off and was flashing my "workout summary" at me.
I dont care about the summary I'M NOT DONE! I kept going for another 5 minutes just to be safe.
Then I got off and wanted to cry.
I posted this picture.
and of course, Sami commented. That reminded me that it doesn't matter how far you go, how long it took, or whether or not it's recorded because you did it.
For a long time my personal mantra has been "Be thankful"
it takes on different meanings at different points in my life, but this week it just plainly means
be thankful you're alive.
be thankful you're able
just be thankful.
So THANK YOU SAMI for putting this together, and reminding me how important life is. I won't be taking it for granted this week, I'll be living and loving to the fullest. I hope Maggie is looking down with a huge smile because her sister is the bomb.com, oh and that 8 miles....seriously you rock and I cried many many tears of joy for you. Get it girl.