I lost two pounds this week!!
Don't worry I'm sure I will also find them this week.
Hopefully I will be able to refrain from putting all the food in my mouth.
I also picked up a new workout DVD from that bish Jillian
This got me thinking.
She has so many great ones, and how to they compare.
Well my gym in closed for three days so I decided that I will be doing some at home work outs and I'm going to compare three of hers.
I'll see how many calories I burn using each and let ya know on Friday!
I had a workout buddy at the gym this morning and we may no longer be friends after. (Hi Joni!)
I'm working today and then it's finally Xmas.
I'm ALL DONE with my sewing so I'm ready.
Oh wait we haven't wrapped anything.
Womp womp.
I'm most excited about my Xmas eve package, but I also bought the hubs tickets to a show that we've been to before, and he loved.
GAH I'm so excited.
It helps there is a big candy bar in the tree just waiting for me to devour it.
Also seeing as how this lovely holiday tends to put me in the poor house I'm taking part in
Steph's
No Spend January.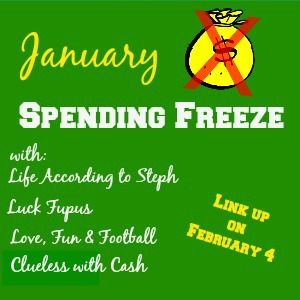 I'll probably do pretty good cause I'm broke....
Is there something you just can't wait to give someone this year? Are you all ready for Xmas or do you still need to do shopping/wrapping??