My blogcrush Holly is back to her old tricks and doing a finish the sentence link up today.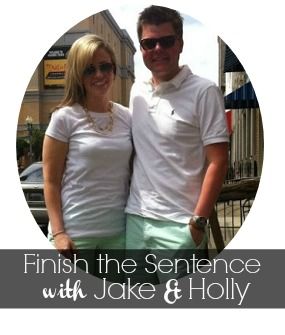 1. My favorite Christmas was.... This one that's about to happen... hopefully
2. The worst Christmas I had...when I was so hungover at my Ex's house I threw up in a new pair of sneakers he just opened...womp womp.
3. That one gift that made me scratch my head and say, "Hmmmm" was...a bowl...and not the kind you eat out of.... ah "true love" in college knows no bounds or laws.
4. One year I....was so sick I made my then boyfriend drive me three hours so I could have pancakes with my mom.
5. I think the worst gift to give is....Gift cards... come on use your noggin a LITTLE
6. At Christmastime I typically.... Stress about whether or not people are going to like my gifts...sew a shit ton, get drunk *see #2* and fall asleep early.
7. Typically, family Christmas....it's never typical.
8. If I could change one thing about the Holiday season....It wouldn't be so damn cold and all the presents would be for me... just kidding...kind of
9. It is so hard to buy for....I would have to say for people to buy for me, because even though I have an ongoing wish list, I'm always the type that says "Well I don't really need it so don't get it" even though I secretly want it.... My husband LOVES this.
10. My favorite Christmas tradition is...The one's I'm starting this year, if I can finish all this sewing without getting too drunk
11. Santa, baby, bring me a ....a Nathan Hydration Vest, a new pair of running sneakers, an endless supply of money in my bank account, amazing hair, and a Kiki La rue Wardrobe.
Two of my other favorite bloggers Jen and AMBER (my fav fav fav) are doing a Christmas questions link up so I had to join...duh.
Even though I just want it to be Christmas already.
Favorite Christmas song.
War is Over.... I love this song and sing it year round. That may not even be the real name...
Christmas song you can't stand.
Anything by the
Chipmunks
... seriously punch me.
Favorite holiday movie.
Elf, except I hate when people quote it... I get it, It's funny.
Real or artificial tree?
Real!! Then scent of a Douglas or Balsam Fir is my favorite scent of all time, and I buy the
Christmas
candles in surplus to have around all the time.
White or colored lights?
All matching ornaments or more random personal ornaments?
All matching. My husband and I are way to OCD for all that craziness, this year we have brown gold and red.
Favorite ornament.
My new one this year!!
Angel or star tree-topper?
Star Topper, except when I was little we had an Angel
Does Santa wrap presents or leave them unwrapped?
We wrap... and by we I mean me..
Favorite childhood memory.
One year my dad made a scavenger hunt for my presents, and he forgot about 5 steps so I randomly found presents over the next two months. I didn't believe in Santa growing up so he had to come up with different ways to make Christmas morning special.
Coffee, hot chocolate, or eggnog?
Coffee, and hot chocolate. Yucko eggnog. I always want to like it, and then I throw up.
Christmas morning at home or do you travel?
I used to travel to wherever, and now that we have our little family we stay home, and it's amazing.
Traditional holiday meal or something unconventional?
Something unconventional, in other words, whatever I feel like making
that's
quick and easy. I may sneak a Christmas Day Dinner into
tradition
down the road.
Personalized photo Christmas cards, store bought cards, e-cards, or "ain't nobody got time for that"?
Personalized Christmas cards, except I took the last two years off...whoops. They will be back I promise! Our photographer is too good to waste!
Also if you aren't sick of link ups yet a few of new blog friends (Like S
arah
) have started a new Thursday Link up so head over to check them out!
I have learned that Christmas Traditions are about living in the moment, and enjoying them as the come. Not always about how you remember them, but remembering to love them while they happen.