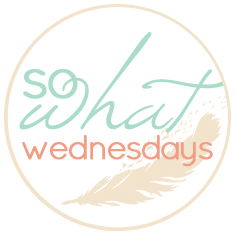 This week I'm linking up and saying SO WHAT if,
I don't this job, it just opens me up to work on an amazing project OUT IN THE FIELD with some great departments
I have to severly change Chip's diet so he stops getting sick, no ice cream is better than fevers and draining ears...ugh
I'm not seeing the progress I want, a friend reminded me that any progress is still that... PROGRESS
I'm addicted to Big Brother, and I totally like Elissa and Amanda, oh and that big teddy bear Spencer.
I bought Mae a bathing suit that has a tutu....
I havent showered yet after my run.....yesterday.
I'm not ready to be done with school and I'm already planning a second Master's degree or even the big PhD....WHAT?!?!
My husband makes fun of all the pictures I take.... he doesn't even see me take half of them.
andddd....SO WHAT if my favorite show is Pretty Little Liars, that shit is beyond addicting and suspenseful and drives me nuts WHO THE F IS A???