The lovely Ashley over at
Weighing My Options
nominated me for a Liebster award, and normally I don't do these things, but I figured hell... why not. I love talking about myself.
That's why we have blogs isn't it??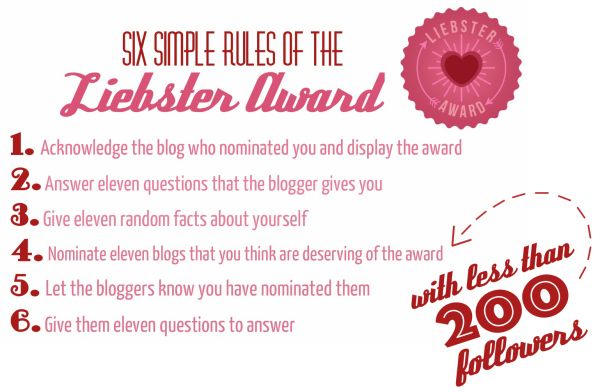 What celebrity would you love to spend the day with? (dead or alive) and Why?

Larry the Cable guy... duh. We could go hunting and then drink beer and eat ribs and he would still think I'm sexy.

What is your guilty pleasure?

Watching teeney bopper tv shows like Pretty Little Liars or any Real World reality show... I miss Road Rules.

Where do you see yourself in 5 years?

Hopefully working in my field, with another baby (or two!) having a crazy sucessful garden and getting as much family time as I want.

Who do you feel is the most influential person in your life?

My husband. He is my rock and my support. I usually want to punch him in the face daily but I would get him an ice pack and a beer afterwards.

What is your favorite hobby?

Knitting and sewing but I don't have much time for it lately. So I would say blogging and running right now. Ew did I just call running a hobby...

If you could live anywhere, where would it be?

Right where I am. With a second story though maybe.

What is your go to song to boost your mood?

Any Jay Z song that I can rap a really fast part. Nothing boosts myself esteem like pretending I'm a rapper.

Would you rather watch TV or have music on?

TV, sometimes music gets annoying to me.

What's your favorite animal?

A zebra, and last year at the zoo I touched one. Like actually touched it. BOOM.

What do you do to unwind at night before bed?

Read a book, or play mindless games on my phone like Candy Crush and Words with Friends... if you want to play against me my username is Candra B. and I promise you will win... I'm horrible

Wine , Beer, Liquor or No Alcohol?

All of the above??
Eleven random facts about myself...hmmm.
1. I always use the same shampoo and conditioner brand. If I'm out of one I won't finish the other.
2. I drink Iced coffee year round.
3. I already have three more baby names picked out.
4. My middle name is Booth
5. I NEVER remember how old I am.
6. My favorite color is brown and most of the walls in our house are shades of brown.
7. I am heavily involved in our town. Town politics annoy me and most people are small minded, but if you want to make a change you have to start local.
8. If the bed is made you better not lay in it. Seriously I will freak out at you.
9. I don't eat meat on the bone... but I'm getting better!!
10. When I'm alone in the car I listen to NHPR... Click and Clack is my jam
11. When I was little I thought my aunt was the tooth fairy because she made crowns and bridges out of her house and she had fake teeth everywhere.
Alright here is where I break the rules. I am not going to nominate anyone of give any questions because these things spread like herpes, but I will point you in the direction of some really great blogs that I have fallen in love with lately!!
Erin from Homemade Happenings... she writes about a little bit of everything including gardening... she's amazing.
Brittney from Breaking Free She's sharing her story on her blog today and it's seriously an incredible one. I know what it's like to lose yourself when you have a sick kid, so her story hits close to home.
Tracy from Yea, I know I'm Short She uses a lot of song lyrics for her titles so her posts always get me singing, how can you beat that?
Now go forth and check out each of these blogs today. Make sure you comment on them and tell them I sent ya! Don't worry you won't be disappointed!