Hello out there!
I have much to tell you.
First things first. Tomorrow is the LAST DAY to sign up for our Swag Swap.
It's going to be amazing and I have met so many great gals through swaps so I highly recommend it!
You can read all the details about it
here
.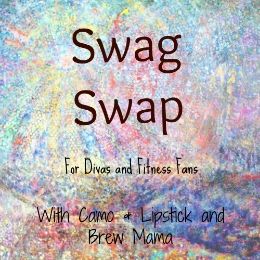 Second.
Everyone needs a little sunshine in their life. I also firmly believe in remembering to be thankful for what you have instead of focusing on what you don't. It just makes life better.
Remember in school when you heard the teacher say
"Eyes on your own paper"
about a million times.
I live by that.
Everyone's life is different and if you are basing your opinions and answers on someone else's paper, than you risk never learning it yourself.
Alicia
,
Val
,
Aubrey
and myself have decided to team up and take part in the 100 days of happiness on Instagram.
You can read all about the challenge here and even register to do it yourself! We created our own hashtag (#blogwives100happydays). In a nutshell you post a picture every day for 100 days of something that makes you happy. That's it.
Come join in the fun!!
Third
I hope you all have been enjoying my Friday vlogs! This week in my training is a fall back week so my long run is only 3 miles. (YAHOOO!).
To celebrate I decided to open up the vlog to any questions anyone has.
I promise to answer anything and everything to my best ability.