I finally made it back to the gym today, and it felt frickin amazing.
I love getting the gym first thing and going hard.
It sets my whole day off right.
I needed it after being stupid sick for two weeks, and my weigh in this weekend.....
I was up .5
I'm going to be honest.
I hadn't pooped in a bit and if I would have waited until nature took its course I would probably have been the same or a little under my last weigh in.
Damn morning craps so unpredictable!
Tell me you pray for a big poop first thing in the morning before a weigh in????
The week is Thanksgiving
*duh, what does she think we are idiots*
No I don't but I like to state the obvious, just ask my husband
I am determined to lose this week NOT GAIN.
I usually do pretty well on Thanksgiving.
My husband has a huge family, and by huge I don't mean he has 3 siblings, I mean he's one of 11 and they all have significant others, and children, and we ALL go over to my MIL's house for Thanksgiving.
I'll do the math for you, that's over 40 people.
Here's a little picture for you of just the immediate family.
Did I mention we all live within two hours?
...and my side of the family?
Well my parent's stopped at perfection and I'm an only child, uh thank ya.
Anyway, you can imagine our Thanksgiving spread with all those folks.
It's insane.
I usually eat the healthier things (which their aren't a lot of) but my problem is picking
ALL DAMN DAY
That shit sits out and taunts me for real.
This year I am going to punch that pumpkin pie in the throat, and crescent kick (which I used to think was a roundhouse kick, but my niece and nephew are in tikwando however the F you spell that and corrected me) those dinner rolls out of the house.
see what I did there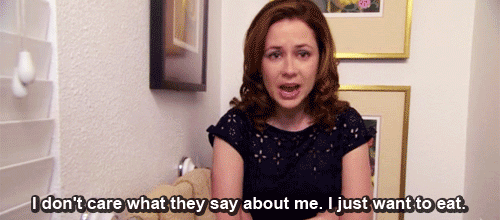 The gym is closed Thursday, but last year I started a tradition of running to my MIL's house which is 4.2 miles.
I'm also working on checking the calorie burn with some alternative forms of cardio, which I will have a whole post for you lovelies about on Wednesday.
Tomorrow is our Thanksgiving themed This or That link up so make sure you come back and talk about my favorite thing, FOOD.
Here are the questions.
Stuffing or Mashed Potatoes
Homemade cranberry sauce, or Store bought cranberry sauce
Pumpkin Pie, or Pecan Pie
Cooking all day, or Cleaning up all night
Thanksgiving Day Parade, or Football game
This past Saturday was my three best friends birthdays. It's fate they all share the same birthday so I can celebrate them all equally.
Miley
SNOOKI!!
and my real best friend