My blog crush Holly posted a story today about how she cried wolf and called 911.
It reminded me of the only time I have ever called 911.... ever.
First off I grew up in a city. A huge city. I may be a backwoods country girl now, but I was born in a city.
When you are a little kid in the city you grow up a little different. You also learn different things in school.
Like what neighborhoods not to wear red/blue in.
Also how to curl your bangs and apply eyeliner to your eyes, lips and eyebrows by the time you are in 3rd grade.
You also learn that calling the cops is no joke. It's not like out here where if you butt dial 911 Joe Smoe from down the roads stop by to see if you are ok (I'm just kidding I love our police and fire department... and I know all of them... you get my drift).
So growing up I knew if the time came for me to call 911 I had to make sure I REALLY needed 911 and that I wasn't going to piss anyone off by sending their baby daddy to jail, when really she just wanted her cigs.
Flash forward about 20 years and I'm living by myself for the first time ever. I'm also 8 months pregnant with my daughter and pretty sure the people living in all of the apartments surrounding me are meth addicts. I was newly out of college and was still under that dorm room fear that if I lite a candle the RA was going to kick me out of school.
I had terrible terrible heartburn with Mabel and I was also thirsty all the time so I was up about 20 million times a night.
On one of my many trips to the bathroom... and by trip to the bathroom I mean taking 2 steps from my bed to the toilet because my entire apartment was the size of a bathroom... I heard a weird sound outside.
I turned out every light and unplugged everything that had light so I could carefully open the door in case it was a murderer.
When I opened the door I heard these soft little crys that sounded like they were coming from the cars parked below my apartment. It was obviously dark out and I couldn't really make anything out. I tried to tell myself I was crazy and I just needed to go back to sleep.
I layed in bed for about 2 min until the sound got louder. So I opened the door again and this time I was sure it was little kids locked in a car crying because they were tired and scared.
It wasn't like normal baby cries it sounded like tired last breath cries.
I had no idea what to do.
Should I call 911... my old fears came racing back. What if the meth heads were setting me up to see if I would rat and they were waiting down there to kill me.
I didn't know what to do and I couldn't let those kids die.
So I called 911.
I begged them to be anonymous if it was even possible, and I asked them to do a loop before they stopped so it looked like it was their idea, and someone didn't call.
The woman probably though I was a meth head.
But they came...
... and I hid.
I froze.
I knew it was going to be the end of me. The neighbors were pissed, and they were going to show me what happens to snitches.
I cracked open the door and saw a police officer.
I opened it a little more.
He asked me to listen and see if I could still hear the sound.
I did and I did.
He then proceed to hold back a laugh while he told me that was a cat in heat.
He appreciated my concern, but he was going to be on his way now.
There you have it folks....you can take the girl out of the city but you can't take the city out of the girl.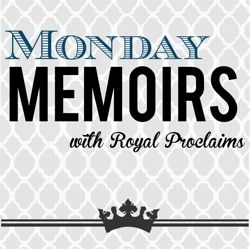 Head on over to Royal's page to read about why you should not mess with her family, and join her link up!