Today is day three of my 30 day challenge with Adie.
After I got over my meth like withdrawals from coffee, I'm feeling really good.
I have been trying not to weigh myself every day because ya know I love me some instant gratification, and that doesn't always help with that whole weight loss thing.
I like to think of myself as one of her groupies, and she's even lucky enough to get videos of me working on my squats in my undies ( for form obvi!).
Incase you haven't had your coffee yet it's Wednesday.
I haven't done a good So What Wednesday in awhile so here it goes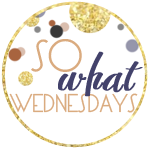 So what if
It's snowing again, the snow kind of looks like glitter falling from the sky.... no I'm not drunk.
I'm dragging the husband to a Town Volunteer Award banquet tomorrow night where we will not know or want to talk to anyone, it's a night out with a nice dinner.
I bought 10 larabars for a giveaway on my Facebook page and ate 5 of them.... I will buy more don't you worry.
The only show I could get into on Netflix was Switched at Birth... no I'm not 12
I already have a girls name and a boys name picked out for the child we haven't even started trying for.
As well as how to announce the pregnancy.
Baby fever is real my friends.