It's Wednesday!!
I have always loved Wednesdays, mostly just because it's way more fun to say than Tuesday....
Which I guess if you try hard enough that's pretty fun to say too.
Anyway.
I'm going to throw it right out there and tell you, I did not go to the gym this morning.
I seriously have not been able to catch up on sleep since we got home from the hospital.
Half of it is I'm just emotionally and physically exhausted, the other half is that wonderful thing you get as a mom, when you hear your baby crying, even when they aren't.
My friend Becky and I talk about this all the time.
It's like another evil trick played on Moms..
Oh your baby is finally sleeping soundly in his/her own room, let me just WAKE YOU UP AND MAKE YOU THINK YOUR CHILD IS SCREAMING
This also happens when you finally get a minute to yourself in the car and you glance in your rear view mirror and see empty car seats.
You SLAM on the breaks just to remember you LITERALLY just dropped the kids off at daycare.
We refer to these as our "Where's the baby moments", and I hate them with a passion.
I don't think these will ever go away, but hopefully I will get some better sleep patterns so I can get my booty up and to the gym in the morning!! I'm also thinking about adding some supplements into my normal routine, any thoughts? Suggestions?
I missed my normal So What Wednesday and the new button is so shiny so I have to participate!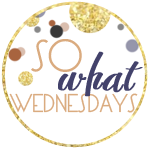 So what if
> I didn't go to the gym this morning. I got an extra two hours of half sleep and it was glorious
>I didn't pick the siblings option for picture day at school today. We get family photos done by my good friend Lauren Somero so I only do pictures at school just because
>I haven't returned my library books yet and they are two weeks overdue. Mabel asks for this book every night and I just can't bare to return it yet. I'm also not done with Gone Girl.
> We have had the kids Halloween costumes picked out since last Halloween and my husband is more excited about them than I am.
> I am hoarding bags and bags of candy corn to make homemade butterfingers, if you're lucky I'll post the recipe!
What are you saying so what to this week?!
I've also noticed my follower number getting bigger and bigger yay! I've decided to do a giveaway when I reach 26 because that's how old I am. Tell your friends tell your neighbors this shits on!