If you have been watching Orange is the New Black, then you know all about the chicken. If you haven't. Take the day off from work... and probably tomorrow too, plant yourself in a chair and watch it.
Anyway, the chicken is a myth that some people believe strongly and some people think is just crazy.
Jaffrey (the town I live in) has it's own chicken, except it's in the form of a black squirrel.
We have tons of grey squirrels as well as red squirrels, but only one black one.
When you get a group of guys together in between all of their hunting stories, you will probably hear one of them say
"You know I saw that damn squirrel on my way to work"
and the others will say, knowing exactly which squirrel he's talking about,
"Oh reaaaalllllyyyyy"
Then they all get this look on their face and you can tell they are wondering if all the stories are true.
They say it's been around for generations, and no one has been able to trap it or shoot it (yes we shoot squirrels around here). I've even heard stories of people who have trapped it and then when they go to let it out, it's already gone and a grey squirrel is in it's place.
It's black because of some genetic mutation that is so rare it's not even documented. There are guys around here who spend hours in the woods just trying to get a glimpse. Everyone swears if they finally catch it they will get it mounted to prove it's real.
Legend has it if the squirrel crosses your path, whatever situation you have been stressing about will turn in your favor.
He's like a good luck charm of sorts.
Well this morning.... I saw it.
Clear as day.
After I dropped the kids off I was driving to work and it ran out in front of my car. I was far enough away that when it stopped in the middle of the road I had plenty of time to slow down.
I stopped right in front of it and it just looked up at me. Then it nodded and ran away. Now I know that whatever happens this week will turn out in my favor.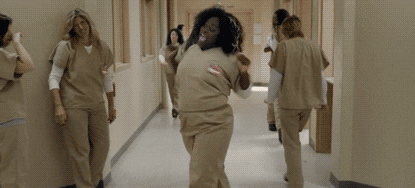 Just kidding I made all this up, but I did see a black squirrel this morning, and I'm going to pretend that all of the above is true, cause I really want shit to go my way this week.